Study Abroad Tips: Preparation & Sites to Visit in India
The hardest part about studying abroad is the preparation before you go on your journey, especially to India. If you are staying there longer than a day or two, you will need a visa.  Additionally, when packing, you have to make sure you are in compliance with their cultural values when all you have is scantily clad outfits from Fashion Nova or Miss Guided for going out. I will give you tips and locations to visit and how to navigate your study abroad department.
First things first. The study abroad process is made WAY more difficult than it needs to be. At my university, the department could be in disarray which affects your experience during the application process. Many universities will give you options for getting the proper materials for you to travel and they will be more expensive than they should be. Also, they won't tell you simple tips like you do not always have to pay for your whole trip upfront.
Some tips during your preparation:
1. Go straight to the Indian Embassy for a visa application (located on 23rd St, Manhattan if you live in NY). You can do everything there and get your visa for cheaper than online sites and faster! You'll even have a visa in your actual passport. 
Also, you can do an E-Visa in which you would have to go to a visa desk when you land in India before you can exit the airport. (Cheapest, but can possibly be time-consuming when you arrive in the country)
Make sure you get all your needed shots, though most of them you are required to already have to attend University.

Pack depending on the region you are planning to visit and the season it is going to be when you arrive at your destination. In the Southern region, temperatures can go up to 75 degrees meanwhile in the North the temperatures can go up to about 60 degrees and tends to be cool during the early morning and evening.

Bring items that you feel like you specifically use. For example, I mainly use Dove soap products so I brought them on the trip.

Be aware of where you are lodging and pack/ dress according to that. Don't pack your Sunday best if you are on a building project.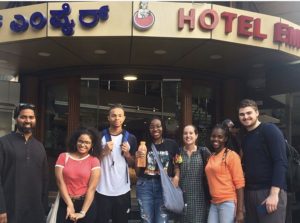 My study abroad took place during my winter break (December 27- January 19).  I flew into India with Emirates Airlines with a layover in Dubai. Dubai's airport is just as opulent as the city itself. I arrived to Bangalore, India in the evening and the airport wasn't packed, but bag handlers will be very persistent and try to help you with your bags. If you do not want to pay them, do not let them help you! They brought us first to a desk where we had to pay a fee for getting bag help along with an airport fee. Then when the handler brought us to our driver he told us a tip wasn't included in that fee and we had to give him a tip.
Key places to visit in Bangalore
Vidhana Soudha (take the India Metro there!)

Commercial Street (tons of food and clothing places)

Anand Sweets and Savouries

Cauvery

Mahatama Ghandi Institute for Rural Energy and Development
So the way my group traveled throughout Southern India was via overnight train (like our Amtrak, but not as nice). When it comes to train travel in India you need to be alert and know how to move quickly. Your train will leave at the time it says and when it is your stop the train will only be at the station for approximately 3 minutes so if you miss it you will be miles and miles away from where you needed to be. Also, because the trains are overnight, you should be very aware of your surroundings. Lastly, the Indian style bathrooms are most likely cleaner than the Western style bathrooms the only caveat is that the Indian style bathrooms are basically just a hole in the floor with a spray nozzle just in case you make a mess. (Bring wipes and hand sanitizer)
On January 5th, I arrived to the city of Hampi in the state of Karnataka ( train stop is Hospet Junction)  which is full of beautiful ancient ruins. Hotels in Hampi are very cheap and you can get a nice one for a low price. I stayed at Hotel Malligi in Hampi which had spacious rooms with the best drinks ( for those of legal age) , restaurants, and a pool.
Key places to visit in Hampi
Virupaksha Temple

Hampi Baazar

Elephant Stables

Lotus Palace

The Stone Chariot

Mango Tree Restaurant ( well known for their Mango Lassi)
Hope my tips inspired you to want to study abroad in India!
Namaste
Bria McKiver, New York
Wanna read about Bria's personal experience in India? Click Here