She Wants You To Cover Your Hair
It's been approximately 2 years since I moved back to the US after living in the United Arab Emirates. I thought it would be cool to share a blog post I wrote when I first moved there to teach. At the very end of this post, I give an update about this experience, so stay tuned!
—
As I drove nearly an hour toward my new school, passing by sand dunes and a wandering camel here and there, I had no idea what my first day of "professional development" would entail. Once into the building, I was met by an Arabic teacher who extended her hand and proceeded to make small talk despite her not knowing much English. Not too long after we took a seat in at the lobby, the other Arabic teachers started to sway through the double paned glass doors. They genuinely embraced each other and kissed each other on the cheek  for less than five times. In between greeting each other, an array of foreign voices and some shy glances welcomed me. I couldn't help but smile because I felt entrapped by the beautiful spirits of the women around me. Even though I don't speak an ounce of Arabic, I felt at home. Our womanly bond transcended our language barrier. Being in a building without the presence of testosterone makes you feel so comfortable to be yourself! Another magnificent part of working in this environment was finally seeing the women take off their burqas and reveal their faces. Walking through the malls and stores here, the women seem so ominous. I always wonder about the woman beneath the cloth. Here, I was finally able to see their complexions all different shades with various facial structures.
After meeting all the women, I concluded that the principal still must not have been there. I was correct. When she finally arrived, it was apparent who she was even underneath the black abaya and burqa that concealed her physical identity. The atmosphere lifted a little and the women entered a stage of euphoria serenading her with love. It was clear that they love her or at least do a hell of a job pretending. The principal noticed my presence and let out a loud shrill, "Welcome, Welcome, Welcomeeeeee!" One of the differences between the culture here in the UAE and the US is that the people here are very touchy feely. For those of you who REALLY know me, you know that it took me awhile to learn how to give people real hugs (lol) , so as my principal, Ms. Latifah, grabbed my hand in a tight embrace and walked me down the hallway still hand in hand, I tried to conceal the fact that I was squirming inside.
Once inside the office, I took a seat on one of three love seats across from Ms. Latifah and another Arabic teacher who served as Ms. Latifah's translator. "You are a city! Cidney your name is a city!"  beamed Ms. Latifah revealing a bit of her silly personality. After going over the logistics, the translator ensured me that if I needed anything to ask. "We are here to help," she smiled graciously. Then she leaned in closer and the words escaped her mouth, "Oh and she wants you to cover your hair."
At first, my heart dropped to the cold tile floor beneath my worn-out black sandals. It would be just my luck that I land at one of the FEW schools where the non-Muslim teachers are required to wear a hair covering. Despite, feeling overwhelmed, I swallowed my feelings and managed to nod okay. After gathering my thoughts, I realized, there are worse things in life than having to wear a scarf on your hair at work. It might even come in handy on the days, my hair is a hot mess in the morning.  Plus, I knew I would put my own flare to my new hair accessory.
Overall, the rest of the day passed by smoothly. I sat expecting a meeting to be called, but instead women chatted about their summer happenings and sipped on their pastime favorite, tea. Not too bad for my first day at the new gig!
—-
Update:
Although I was apprehensive about covering my hair at first, I made it work for myself. I wore my hair in turbans all the time and even learned some new ways to tie my scarves. What I didn't expect was how much this would aid in my hair growth. I would keep my hair twisted all week or in braids and before I knew it, my hair was past my shoulders. I also technically didn't have to wear my hair covered all the time. They were pretty relaxed about the policy since everyone who worked in my school were women. For any of you thinking about visiting or moving to a new country, be prepared to fully immerse yourself in the culture. Sometimes you may feel a bit uncomfortable, but trying something new can have benefits you've never considered and even if it doesn't you have a great story to tell!
Cidney King, Washington D.C
About Author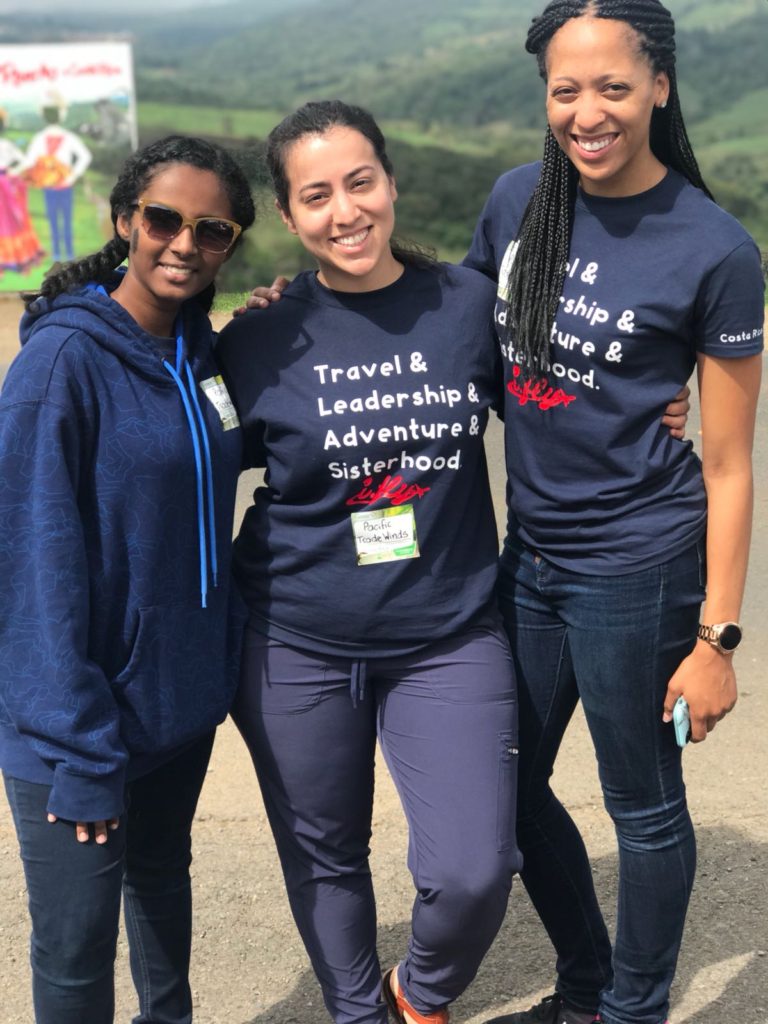 About the author: Cidney King has been to more than 15 countries and previously lived and worked as a teacher in Abu Dhabi for two years. When Cidney moved back to the U.S., she founded iFLY Youth, a DC-based nonprofit organization that provides girls of color access to international travel and leadership development. To learn more about iFLY Youth and the work they do visit www.ifly-youth.org and follow their social media @iflyyouth.
: