Getting Scammed In Bangkok:"Lucky Buddha Day"
"Its funny because I always had this idea that being from NYC, NO ONE could scam me because I thought I'd seen it all. Boy, did Bangkok prove otherwise…..After that experience, I plan out my activities for any trip and read blog posts about my destination."
Visiting Thailand in 2015 was a random and humorous trip that I will never forget. Between January 2015 – April 2015, I spent a semester in Dubai learning Arabic and taking courses focused on Middle Eastern Studies. Some of my study abroad friends and I wanted to take an epic trip to Thailand for spring break and partake in the  Full Moon party located on a beautiful island called Ko Phangnan. (That part of the vacation is a story for another time.) However, we also wanted to visit the busy city of Bangkok. The way our trip was planned, we spent 7 days on the island and 3 days in Bangkok.
Our three days of unplanned adventures in Bangkok comprised of walking the streets of Khao San Road, seeing the floating market, getting $3 massages and, of course, getting scammed. My three friends and I arrived to the city around 3pm on a Wednesday and headed to our inn on Khao San Road, a popular location for backpackers. We grabbed some pad thai and went exploring the city until we were too tired to walk. Before we slept that night, we said we would make an effort to see the Grand Palace. Unfortunately, we ended up in another situation.
We woke up Thursday morning and started walking towards the Grand Palace when a man walks up to us and says "Grand Palace closed. Today, National Holiday. Today, Lucky Buddha Day." He continues to tell us that even though the palace is closed, he knows three other places we can go and had the perfect tok tok drivers who can take us around for a great price.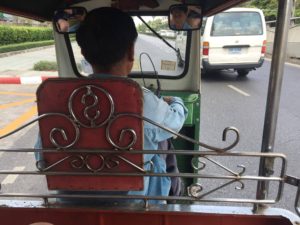 (This is a tok tok btw )
I thought this idea was great and took the lead in making the decision that we should listen to this random man. (Now I know better. )
1st Stop: Big Buddha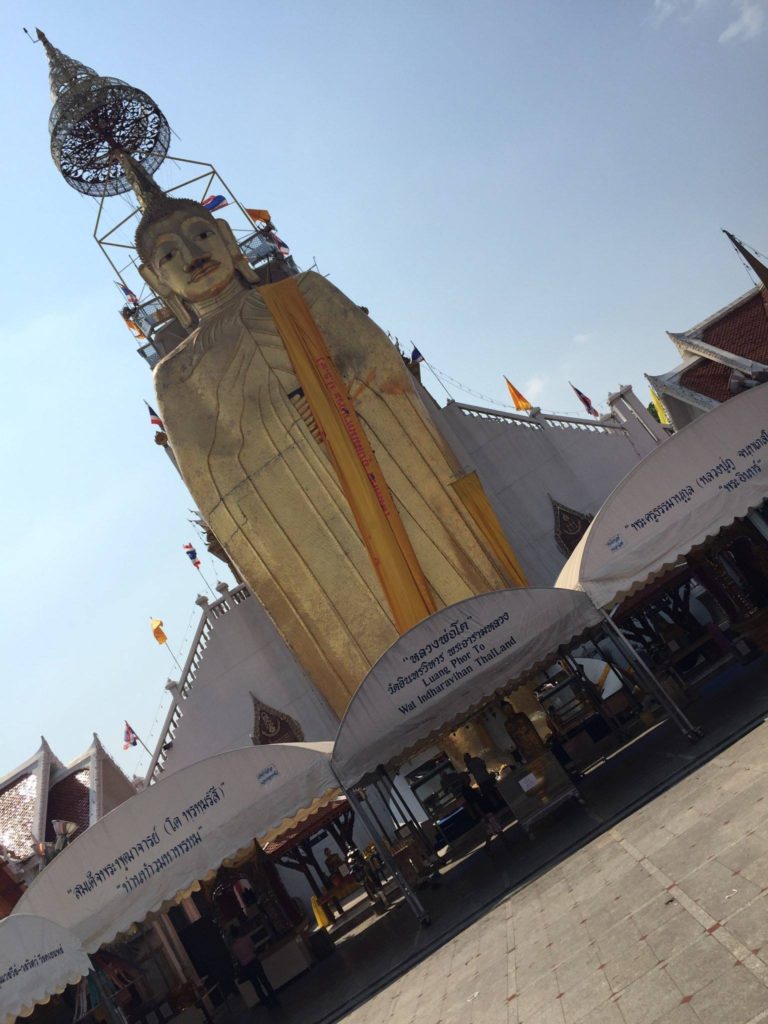 (Sb: There is a real Big Buddha temple in Thailand somewhere. I've seen pictures of it. Unfortunately, this place isn't it.)
We arrived to this temple of a Big Buddha that was still under construction. However, we took time to learn about the history of the temple. Keep in mind that this is a real temple but the scam was that it wasn't the biggest tourist attraction.
For example, it's like visiting NY for the first time and someone tells you "Let me take you to St. Peter's Basilica" but they take you to St. Peter's Catholic local church in Harlem. Or someone says, let's go to Red Lobster but they take you to a small mom and pop shop that their relatives own that also happens to sell seafood.
2nd Stop: Another Temple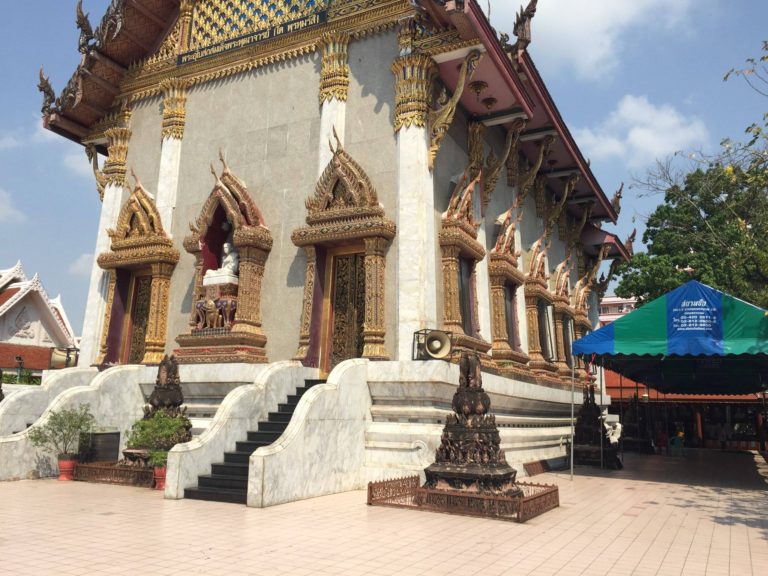 I forgot the name of the second temple but it was super quiet and serene. I can't lie, the ambiance was peaceful. I even donated money because one of the owners told me that the money would be given to orphans. (I was so gullible, who knows where my bahts went to that day.)
As we're heading towards the third stop , my common sense began to hit me. I  thought to myself "If it's a national holiday, why are students wearing uniform and going to school." Keep in mind, one of my friends kept repeating that he thought this was a scam he read about on the State Department website.
3rd Stop: Grand Expo
I was so upset I stopped taking photos. 
By the time we got to the third location, I was pissed. I thought to myself, "This has to be a scam".  We were told that we would go hiking at the third stop but we ended up at some big ass retail store. Not only was it a big ass retail store, but there was nothing but overpriced fake jewelry and touristy gifts.  The retailers kept telling us that everything was tax free and they could mail the items to our homes in America. At that point it was too late. My friend pulled up the State Department Travel Advisory site and reported the Lucky Buddha scam. We all marched out of there! We wanted to leave but the tok tok drivers refused to take us back to our inn or give us our money back. We walked about 10 minutes from the location and caught a cab.
Heading back to the inn, we tried to see if we could still see the Grand Palace. As we walked closer, a man came up to us and said "Grand Palace closed. Today national holiday." We cut him right off and we said all at once "Yeah today Lucky Buddha Day". He realized we knew the deal so he just walked away.
This experience not only wasted my time but my money as well. However, I learned from the experience.
Its funny because I always had this idea that being from NYC, NO ONE could scam me because I thought I'd seen it all.  Boy, did Bangkok prove otherwise. There's different levels to this scamming life. Nonetheless, I look back and laugh at how silly that day ended up being. After that experience, I plan out my activities for any trip and read blog posts from other people to get an idea of what it will be like before I get to my destination. Just like you're doing reading the post on this site!
By: Ermida Koduah , Founder of Being Black In