TOP 3 Hair Salons in Dubai for Black Women
I've spent the past six years living in Dubai, United Arab Emirates and only recently have I found three salons that can provide me with adequate hairdos, at reasonable prices.
Not surprisingly enough, salons for African hair are one of the most searched for topics here in Dubai, as African/African-American women are always in search for someone who will truly understand their hair needs. It is rare to find a person who has not yet faced the trauma of a terrible weave installation or haircut and equally hard to find a hairdresser who will truly understand your (afro) hair needs.
Afro hair is as much a science as it is an art and an experienced hairdresser will take into consideration your hair type as well as your desires before styling your hair. An experienced hairdresser will also not be afraid to advise you against a particular hairstyle if it does not suit your face, even if that's the one you're sure you want (e.g. my first failed attempt at bangs)
So if you are looking for good salons to trust your hair with in Dubai and are desperate to avoid the trial-and-error method, I have put together a short but really good list of the 3 hair salons I feel are the best for African/African-American hair in Dubai, as a great starting point.
 1. Apple Salon – Deira, Dubai
Ideal for: Hair extensions at affordable rates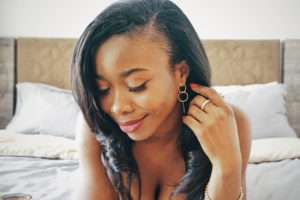 Priding themselves on giving every customer a great experience, Apple Salon has a warm and inviting atmosphere, with comfortable chairs for customers to relax in as their hair gets pampered. The salon also employs staff from various African countries including Nigeria, Sudan, Ethiopia and Cote d'Ivoire who are very friendly and pay great attention to your hair. In addition to hair care, the salon also offers massages, Moroccan baths, facials, eyebrow threading, eyelash extensions and mani-pedis. All at affordable prices.
It's situated in the heart of Deira, and the surrounding streets are filled with shawarma stands, tailoring shops and sari shops so if you need to buy fabric or make or mend clothes while getting your hair done, this is the place to go. You also get the pleasure of ordering from some of the best African restaurants without all the insane delivery costs which is always a plus.
Service: You can't make reservations; appointments are on a first come first serve basis, and they could be a little better with organization. But I really love how well they "fix hair". They truly are the best at it in my opinion with some of the sweetest staff.
Contact Details: 050 788 3762
2. Queen's Beauty Salon – International City
Ideal for : Braids at affordable rates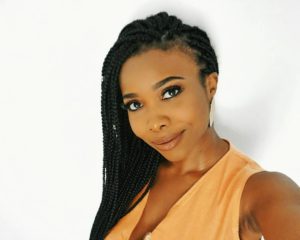 The salon features a minimalist design with cool whites and warm tones, with lots of space to make for very relaxing feel so that the clients never feel part of a crowd when visiting the salon. The staff are super friendly (seriously, they couldn't be nicer if they tried) and very professional handling all areas of hair care including cutting, extensions, braids, jerry curls, hair coloring and special requirements. They pay great attention to detail so that you feel your best the minute you step outside the salon.
Service: Very professional, appointments are made at least 48hrs in advance, very spacious, quiet and relaxed.
3. AfroDiva – Barsha Heights / DIFC
Ideal for : Natural hair care, seamless weave/wig installs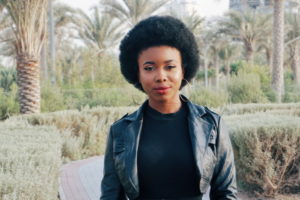 Wanna be pampered while getting your hair done? Try this hair salon in Barsha heights/DIFC. After arriving at the salon, the receptionist brings you a glass of your choice of beverage. You also have the option to get a full hair steam and treatment while you wait (for a small fee of course). And while they're definitely the most expensive of all three salons, they are also one of the best I've been to for really natural looking wig and weave installations. The salon also invests heavily in regular training for their staff, and ensures that they're up-to-date with the latest styles in afro/black hair care.
Service: Very professional, one stop shop for hair and makeup appointments, very spacious, quiet and relaxed.
(Location: The salon currently has two locations, one in Barsha Heights (tecom) and the other in DIFC)
Contact details: 04 443 4505
The above list is just a small one that I've put together as to what I feel they're are best at. Because knowing where to go for specific hairstyles can help save valuable time and money,  after trying a bunch of other hair salons myself over a period of time, especially if you're new in Dubai.
Jacquie A., Dubai UAE
Follow Jacquie on Social Media!
Blog : www. lifewithjacquie.com
Instragram : @jacqi_a
Pintrest:@Jacqi_A 
Youtube : Jacqi A