The Only Black Man for Miles
"We were told Bor had a population of little more than 30,000 people. I later discovered that not a single one was Black- a fact that would soon be made abundantly clear."
This month marks the fifth year since I first traveled to another country. I have had the chance to visit many places since then but this first trip was the only one where I was made to feel explicitly aware of my being Black.
I was selected to participate in a foreign exchange program in Serbia and Hungary the summer before my senior year of high school. I applied to the state department sponsored Youth Leadership Program of Central Europe (YLPCE) on a lark and was surprised to see I had been accepted.
The program had two components: a group of Europeans would visit us in our respective American cities to learn and volunteer and then we would visit them in Europe to do the same.
By the time I arrived to Serbia, I had already made friends with the group who had come to Kansas City. I thought I was at least somewhat familiar with their country from the stories they told me but the beauty of the country surpassed my expectations.
We spent the first few days in Belgrade, the capital of Serbia. It was an ageless metropolis nestled on the Danube river surrounded by tree-capped hills in the distance. The architecture was a blend of old and new. We were given a few hours to take in the city and adjust to jet lag before we got to work.
One of our first activities was visiting Svratište, a temporary daycare for Romani children. The kids jumped at having American visitors and we were just as excited to meet them. We exercised, danced, and helped them with their schoolwork. During a pause between sessions, the kids started to crowd around me. At the time I had dreadlocks and they took a particular interest in them. That's when they began to call me names.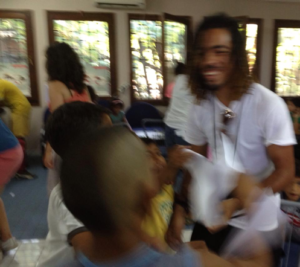 *Picture intentionally blurry to protect children's identities*
They called me Tupac and they called me Michael Jackson. I fail to see what resemblance I have with either of those men, let alone how I look like them both, but I laughed. They were the only Black men famous enough to be known to these children and so, they became their frame of reference.
As the program continued, our group was sent to the small town of Bor. We were told Bor had a population of little more than 30,000 people. I later discovered that not a single one was Black- a fact that would soon be made abundantly clear. My friend Marko, whose home I was staying in, guided me through the town at night.
When people saw me, they stared. Many asked to take pictures with me. They had also never seen a Black person before. To be so young and enthusiastic, I gushed at the opportunity. I felt famous. This came to a head when our little group walked through the park the following night.
A young woman, perhaps only a few years older than I was, noticed me walking by the bench she sat on. She had hoped to take a photo of me without my noticing.
She aimed her camera quickly, in an attempt at being inconspicuous. In her haste to take the picture, however, she forgot to turn off the flash. This resulted in her "sneaking" a very bright, very obvious photo of me. I turned in comical disbelief. She hid her face in embarrassment. As it dawned on me what had happened, I roared in laughter.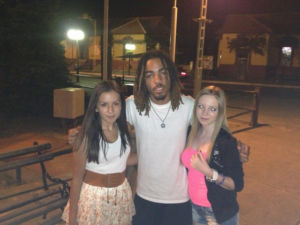 Somewhere in between taking awkward pictures and being Michael Jackson, I realized something. I realized what it meant to be a representative of something larger than myself. Back then, I represented all of Black America. All of my words and actions were a potential representation of everyone back home and I had the enormous responsibility of ensuring that it was positive.
More than any other trip, my time in Serbia allowed me to see myself as a member of a larger Black community. It prepared me to face the stereotypes and beliefs people held about the community in the five years following the trip and beyond.
Erick B., Kansas City, MO
Follow Erick on IG @Ezikuhl