From Russia With Love, Moscow Trip Guide
Three months ago, I went to Ukraine. I decided to continue my trend of going to places off most tourists radar. I decided to continue being great and go to Russia.
Now, I know you're thinking of 3 things regarding that sentiment. 1: WHY WOULD YOU GO THERE?! 2: *in Soulja Boy's voice* RUUUUSSSIIAA?!?! 3: Do they like melanated folks over there? Now that I have your attention, let's address the elephant in the room. Do they like melanated folks over there? In MY personal experience, yes. Very much so. I was embraced by the locals. If I looked lost, they were there to help, despite the language barrier(more on that later). I made a ton of friends, and was even given a gift of vodka and shot glasses upon my departure. Now that we got that out of the way, let's proceed to be great, and go to Russia.
Tips for Russia
Size: Russia is by FAR the biggest country in the world in terms of size. It's so big, that it has 11 time zones! A flight from one side of the country to the other will take 8 hours. That's how long it takes to fly from Chicago to London!
Visa: Russia is home to LEGENDARY bureaucracy, evident by the visa process. I won't be getting into that because I wrote a lengthy post on it, and it didn't get that much love on it. Search for that post if you want further info on how to obtain that coveted Visa. If you don't live in NYC, DC, San Francisco, or Houston, have a visa agency take care of your visa. I used visa express. I highly recommend them to anyone. As of 3 weeks ago, you can only apply for 3 year multi entry visas. Single entry visas don't exist for U.S citizens anymore
Money: Russia has their own currency called the Ruble. 1 Ruble equals about 15 cents U.S. Banknotes come in denominations of 50, 100, 1,000 and 5,000, while coins range in denominations of 1, 2 , 5, 10, and 50.
Moscow has 3 airports: Sheremetyevo  (SVO), Domodedovo (DME) and Vnukovo (VKO) . Coming from the U.S, your point of entry will be Sheremetyevo Airport.
Restaurants in Moscow
Stolovaya 57: Located in the GUM shopping center, this spot is POPULAR. There is always a one, but so worth the wait. You can try any Russian dish here(I'll elaborate on food)
Black Star Burger: This isn't your typical burger joint. They give you a pair of black gloves to eat your food with. They don't want your hands to get dirty. [Fun fact about Black Star Burger: Their marketing strategy is totally digital. There are no advertisements on TV or billboards. Strictly social media. This was opened, and is run by Russia's most famous music label, Black Star. Russian hip hop is dope as hell by the way.]
Varenichnaya: A quaint little restaurant reminiscent of and old town house. Ladies are dressed in traditional clothing. This is a spot locals go to. Pretty off radar to tourists. Such a fantastic experience. Ruski: A semi formal and semi expensive restaurant situated on the 85th floor the OKO Building, which is the 3rd highest building in the city, and the highest restaurant in Europe. Up there, you get some AMAZING views of Moscow.
Ice Bar: Before entering, they give you an ushanka(fur hat) to put on your head, and a fur coat. The bar is kept a constant temperature of -15 degrees celcius (5 degrees Fahrenheit). There is blue backlight to add to the frosty affect. This is where things got interesting…. EVERYTHING is made of ice….the table, the chair, the vodka dispenser, AND EVEN THE SHOT GLASSES. Russians drink vodka by taking some red caviar and putting it on their tongues, then take the shot. When I tell you this was the most disgusting thing ever…..and they do this with turnips too! I literally almost barfed, but downed it like a champ. I did both shots with caviar AND turnips…..when in Russia. Lol. They gave me a gift of a shot glass, vodka, and a book of Alexander Pushkin's poems.
Things to do in Moscow
St Basil's Cathedral: Located in Red Square, and arguably the most iconic structure in the country, this is something that cannot be missed. With it's onion shaped domes, and multi colored exterior, it's absolutely beautiful, especially on the inside. For 10 USD, you can enter. Inside you'll find a lot of ornate designs, gold, and a lot of depictions of Jesus Christ. It's seriously breathtaking.
The Kremlin: Also located in Red Square, is a fortified complex in the center of Moscow, and a UNESCO World Heritage Site, and home to the President of Russia.Within the confines of the Kremlin are a serious of museums and cathedrals. My first stop was the Armoury Chamber, which houses various items related to the Tsars such as armor, royal carriages, gold and silverware, ambassadorial gifts, and Russian secular dresses. Very interesting history lesson!From there I roamed the rest of the complex, while gazing at the Tsar Bell, Dormition Cathedral, Cathedral of the Archangel, and The Cathedral of the Annunciation.
GUM Shopping Center: Pronounced "goom", this is the main shopping center in the city. Home to many luxury and boutique stores, the interior of this place is absurdly beautiful. Aesthetics definitely matter, evident by the interior.
Alexander Park: Outside of the walls of the Kremlin in Alexander Park, is The Tomb of the Unknown Soldier, a war memorial dedicated to all of the Soviet soldiers that perished during WWII. There is an eternal flame in their memory, and an inscription that reads "Your name is unknown, your deed is immortal". Powerful. Absolutely powerful. A Changing of the Guard Ceremony takes place every hour(I recorded it)
Flying Bridge: perfect views of the Moskva River. Old and New Arbat streets: which are pedestrian streets full of shops and restaurants, similar to Istiklal Street in Istanbul minus the tram. You can do ALL of your souvenir shopping here.
Victory Park: somewhat off the tourist path, It reminded me a lot of Central Park in New York, but there are a ton of war memorials, tanks, and other WWII related things. This was the most exhausting part of the trip, but totally worth it. Very moving experience. Upon exiting the park, you'll see the Triumphal Arch, which commemorates Russia's victory over Napoleon. Luzhniki Stadium: the very stadium used in the 2018 FIFA World Cup.
Russian Exhibition Center: The entire complex is HUGE. Our first stop was to view the Worker and Kolkhoz Woman statue. This is the 3rd largest statue in Moscow. This is one of the iconic symbols of the Soviet Union. So much so, that this is where the sickle and hammer on the USSR logo originated from. It was a sight to behold. From there we walked to Vystavka Dostizheniy Narodnogo Khozyaystva (VDNKh), which is the Exhibition of Achievements of National Economy. Upon entering, you gaze upon the Tsentralny Pavilion, which is this massive archway with 3 columns, similar to Brandenburg Gate in Berlin. Once you pass through, there is this long pathway that leads up to this statue of Vladimir Lenin. From there we went to the Museum of Cosmonautics, and learned about the Soviet Space program. I learned that Vita Bogdanovskaya 's father was actually part of that! The war between NASA and the Soviets for manned and unmanned missions to space was intense! There is a model of Space Shuttle Buran that you can explore. It details the mission from launch, to communication with mission control, and to the mission being accomplished. Absolutely fascinating. The museum is geared more towards children, but it's very fascinating. The Spacesuits that were used to carry out the mission were on display as well.I couldn't include Lenin's moseleum because it's closed for maintenance for the next 2 months. All the more reason to go back!
Metro Stations: Prior to visiting Moscow, I read an article that it's home to some of the most beautiful metro stations in the world. The lie detector determine that was definitely true. The ones I visited were Novoslobodskaya Station,and Mayakovskaya station. Photos don't do it justice. Each one tells a story. Some even have the USSR insignia on the ceiling. If you want some dope metro station photos, go between 11 p.m and 1 a.m(trains stop running at 1), when NO ONE is using the train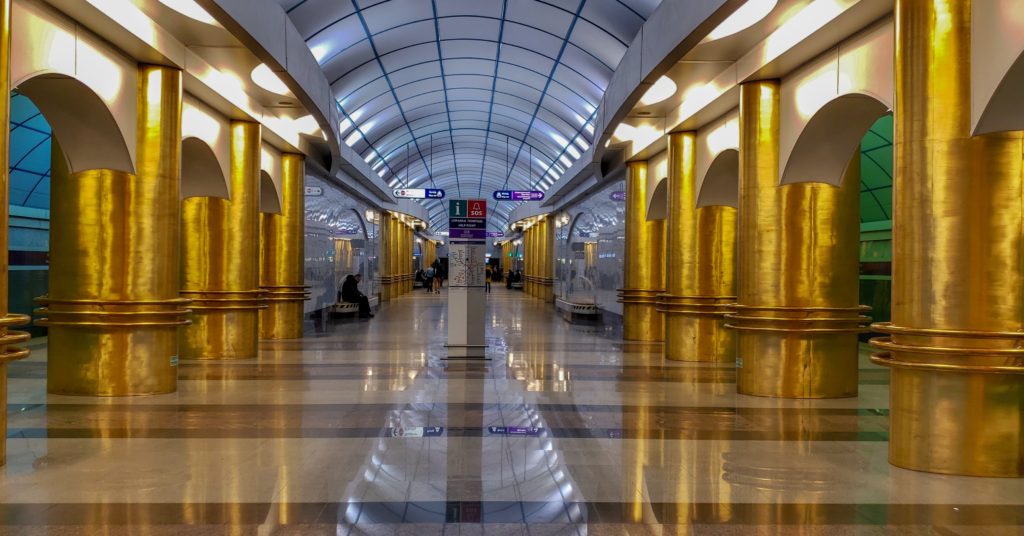 Moscow is a HUGE city. I feel like 4 days wasn't enough time to see everything, but it WAS enough time to see all of the tourist spots, and get a feel for the city, despite it being somewhat intimidating because of how large it is. As much as I loved Moscow, it was time to say goodbye , and get on a 3 hour bullet train(called Sapsan), to St Petersburg,(Leningrad)Russia's cultural and cosmopolitan capital . Stay tuned for that post!
By: Leroy Tyler, Follow Leroy on IG: @ablackmanabroad Check out his blogging site, A Black Man Abroad